Trout and Seasons of the Mountain Village
A while back, I stumbled upon Yoshikazu Fujioka's website Trout and Seasons of the Mountain Village.  My introduction came not through fishing but through paper models.   I can't recall where it was, but I saw a post about 3D paper trout models that you could build,  I thought that it would be a fun project to do with the kids (It is, but be patient, it can be tricky). These models are simply amazing. You'll find trout of Japan and trout of the world.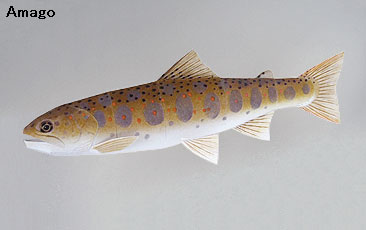 At about the same time I became interested in Tenkara fishing, and coincidentally, Yoshikazu Fujioka, also happens to be Tenkara master, and has a wealth of Tenkara information on his site. Especially interesting, are the many regional Tenkara fly patterns that he has cataloged. Oh yeah, and he is also an accomplished artist, producing beautiful fly fishing related art. So do yourself a favor and explore Trout and Seasons of The Mountain Village.